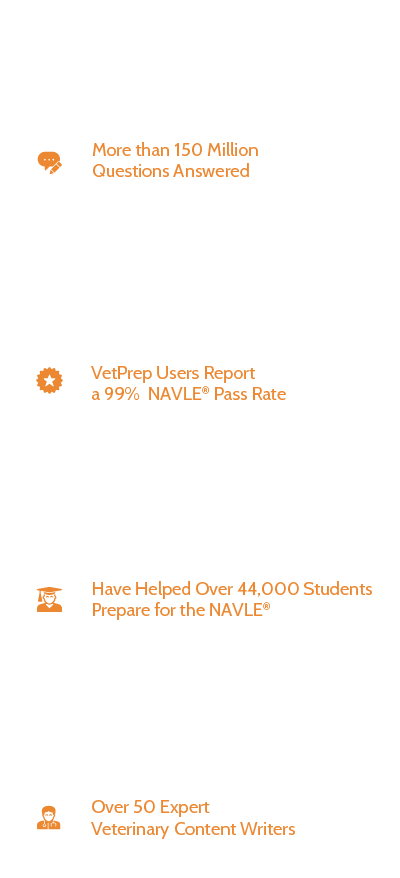 We know what passing the NAVLE® means to you. We know what it feels like to add those three big letters after your name. We know that the profession is truly a calling - you were put on this Earth to help animals. And that's why we do what we do.
Study Smarter, Not Harder
As you near the end of your veterinary education, we understand that your time is limited and valuable. This is why VetPrep has been designed to help you study in the most efficient and effective way possible. Our content is relentlessly reviewed, and it's close enough to the real exam that you'll feel confident, prepared, and ready to pass the NAVLE®.
Methodology
A Crisp & Comprehensive Package of Content
We've taken the guess work out of what you need to know and packaged it so you can focus on learning. Our comprehensive pool of practice and exam-style questions all come with detailed explanations, and incorrectly answered questions are automatically recycled so you will see them again and again until you get them right. But we didn't stop there.
Topical Reviews with PowerPages™
We know it's probably been a while since you reviewed some subjects, like cranial nerves and causes of swine diarrhea, and you probably don't have time to look it all up again. Don't sweat it! We've got you covered with PowerPages: to-the-point pdfs on dozens of topics you are likely to encounter on the NAVLE®.
Concise and Interactive PowerLectures™
Needing something a little more interactive for review? We covered that too with PowerLectures! These 5-15 minute videos are mini-lectures on the most NAVLE®-relevant topics, provided by experts, and are great for auditory and visual learners!
Feels Just Like the Real Thing
Knowledge is only one piece of the puzzle. We don't want the unknown to trip you up on exam day! So we've made it top priority for VetPrep to look and feel just like the real thing. Wondering how much time you have left? It's there. Need an on-screen calculator? We've got it. How about the ability to mark questions for later review, we've done that too. Want to highlight, strike out or add a note? No problem!
#1 Choice of SAVMA
Not only is VetPrep the most popular NAVLE® study resource, it has also been independently rated as the most useful by SAVMA:
In a recent report from SAVMA based on survey responses from veterinary students, 99% of veterinary students surveyed found VetPrep to be a useful study resource with an impressive 78% voting the service "very useful". This was by far the highest rating of any service! In fact, VetPrep was the only service considered "very useful" by a majority of students surveyed.*
Read the Full Report
*This data comes from the 2012 NAVLE-STPR.
There's No Better Prep Tool Than Our Timed Exams
Even our timed-exams look like the real thing! By working your way up to six sets of 60 questions in one study session, you will be preparing yourself for the mental and physical strain of the real test.
Focus with Detailed Stats
We even provide you with detailed statistics on your progress so you know where to focus your efforts, and how far you've come since beginning the program.
Finding the Study Sweet Spot
For many students, beginning to study four to six months before the exam is adequate time. For those wishing to take full advantage of all PowerPages and PowerLectures, beginning six to nine months before the exam is the way to go. Focus first on strategic subject review, and then dive into the practice questions and timed exams.
Go for the Gold
Remember, because of the way we recycle the questions you answer incorrectly, the ones you leave unfinished are the ones you kept getting wrong! The Progress Bar will help you know exactly what amount you have completed. If it says 75%, that means there remains 25% of the content you have yet to master. Don't leave it behind! We recommend you finish all of VetPrep before your exam, to put you in the best position for success.
Full Circle: Our Team, Our Students, Our Mission
Your success is important to us. We relentlessly review our program to ensure that it's close enough to the real exam so you will feel confident, prepared, and ready to pass the NAVLE® and become a veterinarian. But exam prep is only the beginning, we're ready to do so much more. While we've made great strides over the years while helping students, organizations, veterinarians, and animals, we're finally getting the chance to spread our wings.
We'll be your support through your days as a vet student, and through the months of preparation for your big test. We want to help YOU - and our profession - continue to grow for many years to come. This unshakeable commitment to improving the field of veterinary medicine and its community is our North Star and we hope you'll join us on this quest to make this world, our world, a better place.